PJ: Earlier this year, candidate Romney stated his support for Arizona's tough immigration law (http://univisionnews.tumblr.com/post/18103821600/gop-candidates-embrace-ariz-immigration-law-romney) . Now, perhaps in a move to improve his standing with latino voters, he seems reluctant to take a stand. I have never seen a candidate run from his own positions more than Mr. Romney has done over the course of this campaign.
The Guardian
Romney campaign on back foot over Arizona immigration law
Republican contender unable to give specific answer on whether he accepts supreme court ruling or sides with Arizona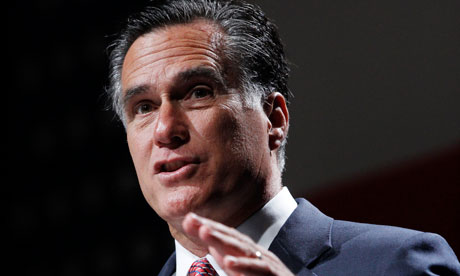 Mitt Romney
's campaign managers were forced on the defensive on Monday after the Republican presidential candidate issued a vague and ambiguous response to the
supreme court ruling
on
Arizona
's tough anti-immigrant laws.
Romney appears caught between a desire not to alienate conservatives who adopt a hardline approach to illegal immigration and a need to court Latino voters.
Journalists travelling with the Romney campaign team pressed his staff for more specific answers than were on offer in a written statement issued earlier.
One of Romney's spokesmen, Rick Gorka, was asked about 20 times for the former Massachusetts governor's response to the justices' ruling during a flight to the state on Monday. He was asked in particular whether he accepted the supreme court ruling or whether he sided with Arizona.
Midway through the exchanges,
a reporter with Politico
, Ginger Gibson, asked: "Is it fair to say he has no opinion? You're refusing to give us an answer." Gorka replied: "We have to get going. I'm more than happy to talk about. I'm with you guys all afternoon at the hotel."
In his
written statement
, Romney pointedly did not say whether he agreed or disagreed with the supreme court ruling, particularly over the emotionally charged issue of the requirement on police to check the immigration status of anyone they suspect of being in the US illegally.
Read it at The Guardian:
http://www.guardian.co.uk/world/2012/jun/25/romney-campaign-arizona-immigration-law