The Independent
Romney election triumph would sink US reputation in Europe, poll finds
Europeans hold strongly negative views about GOP contender but Obama's favourability poor in Pakistan and Middle East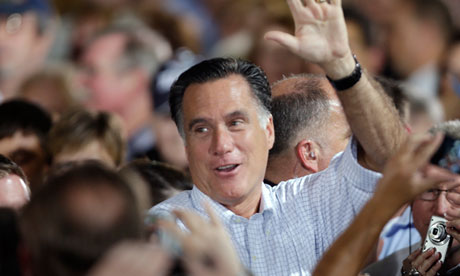 The reputation of the US in
Europe
risks sinking back to Bush-era levels of unpopularity if
Mitt Romney
becomes president, according to new international polling published on Tuesday.
Only around one in 20 of those surveyed in Britain, France and Germany by YouGov held a positive view of the Republican presidential nominee.
The poll of more than 12,000 people across Europe, the Middle East, North Africa, Pakistan and China
was prepared for the YouGov-Cambridge forum this week
at which the Guardian is a media partner.
The results are a sign that affection for
Barack Obama
has diminished little since his 2008 speech in Berlin in which he promised to restore America's reputation on the world stage, even though, four years on, Guantánamo remains open and the US is still engaged in military action in Afghanistan.
But while Europeans had a strongly negative reaction to Romney, the prospect of him winning the White House was greeted with less dismay in Pakistan, where about 13% of respondents said it would make them more favourable to the US, compared to just 9% who said it would make them less favourable.
Read it at the Independent:
http://www.guardian.co.uk/world/2012/sep/11/romney-triumph-us-reputation-europe